Powder Metal Manufacturing of a Magnet Hub for a DC Motor Application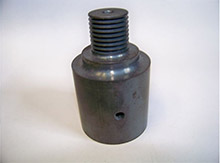 At Ridgway Powdered Metals Inc., we specialize in developing powdered metal manufacturing solutions to needs that are poorly met by more traditional fabrication methods. This magnet hub is used on a DC motor, and is composed of FY-4500-20V, a powdered iron-phosphorous magnetic alloy specifically designed for DC applications. The hub has an outer diameter of 2.360" and a height of 1.740", and is held to dimensional tolerances of ±0.003. It also features a counter bore depth of 1.600". This type of feature is very difficult to achieve while maintaining such a uniform thin wall thickness using traditional manufacturing methods.
Our engineering department developed the tooling and processes required to produce this custom hub completely in-house. The powder is compressed on our 550 ton multilevel compacting press and sintered in our tightly controlled sintering furnace. Resin impregnation is used to further reduce porosity, the finished hub is then zinc plated. We produce approximately 1,000 of these hubs per month and maintain a Kanban system for our customer. Once a Kanban is released, the customer receives the parts in two days. For more information about this powdered metal manufacturing project, see the table below, or contact us directly.
Request Quote
Highlights of this Powdered Metal Manufacturing Project
Product Description

Magnet Hub
Capabilities Applied/Processes

Primary:
Engineering

Tool Making
Process Sourcing

Compacting/Molding
Sintering
Secondary:
Resin Impregnate
Zinc Plate
Equipment Used to Manufacture Part

550 ton Multi-Level Press

Three Lower Punches and One Upper Punch.
Overall Part Dimensions

Outside Diameter: Ø 2.370"
Depth/Height: 1.740", C'Bore Depth: 1.600" Internal Hub.
Weight: 360 grams
Tightest Tolerances

± 0.003"
Material Used

FY-4500-20V
Material Finish

Zinc Plate, Clear Sealant
In process testing/inspection performed

Dimensional Inspection, Gage Inspection
Visual Inspection for Plating.
Industry for Use

DC Motors
Volume

12,000 +
Delivery/Turnaround Time

Up to 1,000 per Month, Kanban Releases, Two Day Delivery
Delivery Location

VA
Standards Met

Customer Specifications, 2D CAD Drawing
Product Name

Magnet Hub
View Other Past Projects