Powder Metal Manufacturing of an Insert for the Lawn & Garden Industry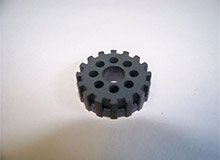 A customer in the lawn and garden industry needed a manufacturer with the advanced capabilities to create a precision, multi-level bearing insert cover for use in a garden tractor application. Ridgway Powdered Metals was contracted to do all of the required work, utilizing a state of the art 550 ton multi-level press featuring three lower punches and two upper punches to perform the compacting of the finest grade copper steel "FC-0208-50" material into the customer specified profile. A controlled, high temperature sintering process was then applied, to further consolidate the materials and complete the metal bonding. The part was deburred for removal of unwanted particles and left with a raw/machined finish.
Completed dimensions for the bearing insert cover were an outside diameter of 2.050" and a height of 1.145". Tightest tolerances of Ø 0.6710" / Ø 0.6695" were held throughout. The part was fully tested and inspected with dimensional and gauge inspections, in keeping with Ridgway's standards for quality and accuracy. Production parts were complete and shipped to the customer in Milwaukee, WI within 4-6 weeks. This part has an estimated annual usage of 30,000 units. For more information about this multi-level powder metal insert cover fabrication, or the other precision metal manufacturing services available please see the table below or contact Ridgway directly.
Request Quote
Highlights of this Powder Metal Insert Fabrication
Product Description

Bearing Insert Cover
Powder Metal Fabrication Capabilities Applied/Processes

Primary:
Compacting/Molding
Sintering
Secondary:
Deburring
Equipment Used to Manufacture Part

550 ton multi-level press, three lower punches and two upper punches.
Overall Part Dimensions

Outside Diameter: Ø 2.050"
Depth/Height: 1.145"
Tightest Tolerances

Ø 0.6710" / Ø 0.6695"
Material Used

FC-0208-50
Material Finish

Machined/Raw
In process testing/inspection performed

Dimensional Inspection, Gage Inspection
Industry for Use

Garden Tractor
Volume

30K EAU
Delivery/Turnaround Time

Production parts – 4 to 6 weeks.
Delivery Location

Milwaukee, WI
Standards Met

Customer Specifications, 2D CAD Drawing
Product Name

Insert
View Other Past Projects