Powder Metal Manufacturing of a Clutch Hub for the Valve Control Industry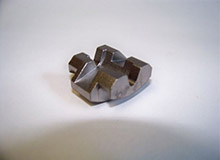 Our engineers at Ridgway Powdered Metals can assist customers in the development of custom powdered metal components. Powdered metal manufacturing offers unparalleled flexibility and cost effectiveness in the fabrication of complex metal components. This 3.400" O.D. clutch hub is used in the valve control industry. The complex geometry lends itself to powdered metal manufacturing. Features like the lugs at both ends would result in extensive machining time and material waste in a traditional machining. The hub is molded from FN-0405 high strength nickel steel and held to dimensional tolerances of ±0.006" for the inner diameter.
After compacting and sintering, the hub undergoes additional machining, heat treating, and drawing processes. For some components with fine features, a combination of powder metal manufacturing and machining is the optimal production solution. Engineers can consult with customers about the most economical way to produce accurate, high quality parts with the required dimensions and geometry. We produce of 10,000 of these hubs per year with a 4 week lead time. For more information about this custom powdered metal component project, see the table below, or contact us directly.
Request Quote
Highlights of this Custom Powdered Metal Components Project
Product Description

Clutch Hub
Powdered Metal Capabilities Applied/Processes

Primary:
Engineering

Tool Making
Process Sourcing

Compacting/Molding
Sintering
Secondary:
Machine
Heat Treat and Draw
Equipment Used to Manufacture Part

Standard Molding Press
Overall Part Dimensions

Outside Diameter: Ø 3.400"
Body Diameter: 2.173", Lugs on both ends of the part
Weight: 463 grams
Tightest Tolerances

0.006" on the I.D
Material Used

FN-0405
In process testing/inspection performed

Dimensional Inspection, Gage Inspection, Hardness Testing
Industry for Use

Valve Control
Volume

10,000 +
Delivery/Turnaround Time

4 Week Delivery
Delivery Location

VA
Standards Met

Customer Specifications, 2D CAD Drawing
Product Name

Clutch Hub
View Other Past Projects