Powder Metal Manufacturing of an Adjuster Sleeve for an Automotive Application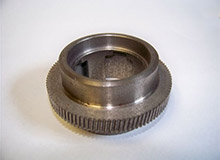 For over 4 decades, Ridgway Powdered Metals has been providing high quality precision powdered metal components for a range of industries and applications. In the project highlighted here, Ridgway was contracted to fabricate a custom adjuster sleeve, used for adjusting bearings in automotive applications. A continuously improving strategic sourcing process was used to procure the necessary materials, and the unit's tooling was custom designed and manufactured on site. An advanced standard compacting press was utilized to mold hybrid low alloy steel "FLN4C-4005-170HT" powder and the required additives into a consolidated mass. In a protective atmosphere, the sintering process was implemented to consolidate the material and impart product strength and integrity. The tightest tolerance of ± 0.001" was held. Quality and accuracy were maintained with in process and post fabrication dimensional inspection, hardness testing, and gage inspection.
The near net-shaped sintered part was further finished with precision machining, heat treating, and grinding. Finished sleeve dimensions were 1.020" in depth, an outside diameter of 3.038", and 360 grams in weight. The tooling was constructed to allow for the formation of a spine on both the inner and outer diameters, and the inner diameter was finished with a 16 RMS surface. 500,000 adjusters were furnished for this project, shipped to the customer in Michigan. This is a standing contract, with 25,000 units produced monthly. Ridgway Powdered Metals is dedicated to providing cost effective precision manufacturing solutions. For more information about this bearing adjuster project or any of our other custom powdered metal fabrications please see the table below or contact Ridgway directly.
Request Quote
Highlights of this Adjuster Sleeve Project
Product Description

Bearing Adjuster
Powder Metal Manufacturing Capabilities Applied/Processes

Primary:
Engineering

Tool Making
Process Sourcing

Compacting/Molding
Sintering
Secondary:
Heat Treating
Machining - Pre Heat Treat
Grinding - Post Heat Treat
Equipment Used to Manufacture Part

Standard Compacting Press
Overall Part Dimensions

Outside Diameter: Ø 3.038"
Depth/Height: 1.020"
Weight: 360 grams
Tightest Tolerances

± 0.001"
Material Used

FLN4C-4005-170HT
Material Finish

16 RMS Surface Finish on ID
In process testing/inspection performed

Dimensional Inspection, Hardness Testing, Gage Inspection
Industry for Use

Automotive
Volume

500,000 +
Delivery/Turnaround Time

Up to 25,000 per Month
Delivery Location

MI
Standards Met

Customer Specifications, 2D CAD Drawing
Product Name

Adjuster Sleeve
View Other Past Projects